A Kroger strike will take place unless the company comes up with a new contract agreement that provides a better pay increase and health benefits for retirees. About 1,100 members of the United Food and Commercial Workers Local 400 voted unanimously to reject Kroger's last collective bargaining agreement, then voted to authorize a strike.
The meeting at the Salem Civic Center took less than two hours, WXII 12 reports. The vote does not necessarily mean that a strike will happen.
A Kroger strike could happen at anytime since union employees are operating under an extended contract through June 4, and they have an opportunity to reach a new agreement before then. If no agreement is reached, the union employees will strike. Shortly after the vote Wednesday, Kroger and the union bargaining team agreed to meet again Monday and Tuesday.
"This the best course for everyone, especially our associates," Kroger spokeswoman Allison McGee said. "We look forward to returning to the table and working through issues with the union. Kroger remains committed to providing all associates a solid and competitive pay and benefits package in this next contract."
She said it is not an "appropriate" time to speculate about what the company would do if there is a strike and a work stoppage, WSLS reported. The company's focus is on having good, productive meetings next week, she said. "We have a contract extension, we have meetings scheduled with the union and our full attention is on reaching an agreement."
The union represents about 3,000 employees, both full time and part time, at 41 Kroger stores in a region that stretches from Harrisonburg to east Tennessee. Its members are cashiers, meat cutters, stockers, clerks and other non-salaried employees.
The Kroger employees operated under a three-year contract until early April, according to union spokesman Jonathan Williams. Then they worked under an extended contract until midnight May 8. On that day, Kroger offered a contract proposal that was unanimously rejected by the 13 members of the union's bargaining team. The offer was brought to the entire union membership on Wednesday.
According to union members, the company's new proposal included small wage increases and no paid sick days for store associates, and it would not provide health insurance to retirees after the end of the year. Williams said the proposal's largest raise offering was 25 cents an hour for full-time employees.
While a Kroger strike is looming, the wage increase was the major factor in cashier Judy Toney's vote to reject the proposal. She works full time and has been with the company for 17 years, she said. "They make profits every week and we work hard for that," she said.
Many members argued that Kroger could afford to pay them more, citing the company's net earnings, which reached more than $2 billion in fiscal year 2015. They also cited the recent pay raise for Kroger CEO Rodney McMullen, whose compensation went from about $9.5 million in 2014 to more than $11.1 million in salary and stock options last year, according to a filing last week with the U.S. Securities and Exchange Commission.
"It was a slap in the face," said Todd Dolehanty, one of the 13 Kroger associates on the union's bargaining team. He drove over an hour on Wednesday for the vote. "Kroger is more successful than ever before. … But they told us, the people who make that success possible in the first place, that all they could afford was a quarter."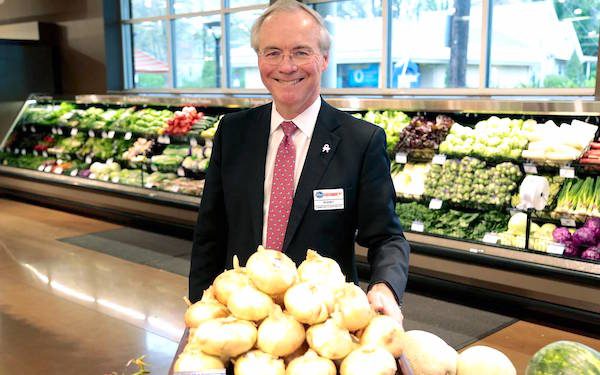 Dolehanty said the bargaining team met with company officials 10 to 15 times since March, but negotiations failed. Union members said they did not have a specific timeline as to when they would strike but said they likely would meet again to agree on a time if the grocer does not come up with a new proposal.
The Business Journal said it looks like no employee wants a Kroger strike. "We really don't want to strike," said Kroger associate Dawn Greenway. "We want Kroger to come to the table and really negotiate." McGee, Kroger's spokeswoman, said the most important next step is for the company and the union to work out these issues.