The original WB series "Charmed" is set to return to TV as CBS is developing a reboot of the show, according to an individual with knowledge of the project. The project so far consists of a script deal with no pilot or broadcast commitment as of yet.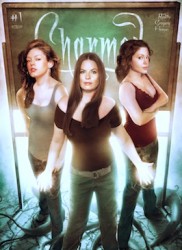 It is being billed as a reimagining of the original series centered around four sisters who discover their destiny — to battle against the forces of evil using their witchcraft. Chris Keyser ("Party of Five") and Sydney Sidner ("The Rite") are writing the project, with Keyser executive producing and Sidner co-executive producing. The Tannenbaum Company is executive producing the project, with CBS Television Studios producing.
The original series, which ran on the WB for eight seasons from 1998 to 2006, starred Holly Marie Combs, Alyssa Milano, Shannen Doherty and, in later seasons, Rose McGowan.
Witches have been a hot property this television season, with Lifetime's "Witches of East End" and FX's "American Horror Story: Coven."
This one should be good.