Janet Waldo, the voice of Judy Jetson on The Jetsons cartoon, died on Sunday, according to her family. Waldo's daughter Lucy Lee said her mother had been diagnosed with a benign, but inoperable brain tumor five years ago. She was 96.
The voice actress, a Washington native, played several roles for radio and television, but was best known for her work as Judy Jetson, the teenage daughter of George and Jane Jetson, the Seattle Post Intelligencer reports. "The Jetsons" ran from 1962 to 1987 and included a big-screen adaption in 1990 called "Jetsons: The Movie."
Janet Waldo also starred in "The Perils of Penlope Pitstop," and appeared in the hit TV series "I Love Lucy" in 1952. She had a variety of roles in "The Flintstones" including Pearl Slaghoople.
Waldo was born in Washington and she is best-known for her cartoon voice work during the '60s, '70s and '80s. As well as voicing Josie McCoy in Josie and the Pussycats, she also voiced Morticia Addams in a short-lived cartoon version of the TV series in 1973 and a character called "Hogatha in The Smurfs" during the 1980s, the International Business Times reported.
One of her final roles was in 1998 in the hugely popular adult animated TV series "King of the Hill," in which she guest starred as Mrs. Tobbis in one episode.
She also voiced many comic book characters on their animated series, both Marvel and DC. In 1966, she voiced Lana Lang on "The New Adventures of Superman" and then reprising the role in the 1967 Superman/Aquaman Hour of Adventure. On the Marvel side she voiced Princess Pearla in an episode of the 1967 animated series Fantastic Four and then in 1981 gave voice to Shanna the She-Devil in Spider-Man and His Amazing Friends.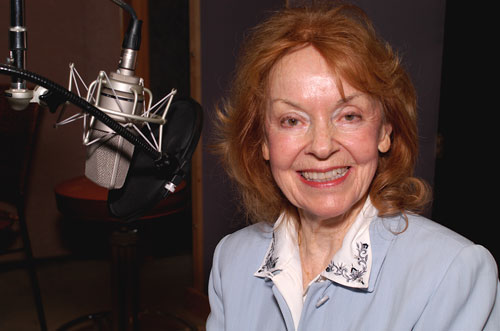 Many of the animated series that she voiced would later become live action films. Josie and the Pussycats, starring Rachael Leigh Cook, Tara Reid, and Rosario Dawson would come to screens (briefly) in 2001. Rachael Leigh Cook took on the role of Josie, which Waldo originally voiced. The Smurfs has also seen a recent reboot in live action/computer animated films.
The BBC said Janet Waldo began acting in 1938 with small roles in several films but by the '70s she worked almost exclusively in animation. Waldo was not just a voice actor though she also had reoccurring role on The Adventures of Ozzie & Harriet playing Janet and on a guest role on Petticoat Junction to name a few.