Maroon 5 cancels their upcoming shows in Charlotte and Raleigh in response to North Carolina's "bathroom bill." In a statement released to their website, the band explained that they feel as though canceling the shows is the "morally right" thing to do.
"We have announced that we will be canceling our upcoming shows in Charlotte and Raleigh, North Carolina because of the recent passage of the HB2 legislation, Oklahoma News reports. This was a difficult decision for us to make as a band. We don't want to penalize our fans in North Carolina by not performing for them, but in the end it comes down to what we feel is morally right."
It is an interesting move as Maroon 5 cancels their shows, because prior to their American tour, Maroon 5 will be playing in several European countries-Russia, Georgia, Turkey, Poland, and Romania, among others-that have very questionable records on LGBT rights. According to ILGA-Europe, Russia is the second-worst country in Europe for gay rights, and Turkey isn't far behind. The majority of the Maroon 5 shows on their European tour are in countries in the bottom half of IGLA-Europe's rankings.
If Maroon 5 were serious about gay rights and equality, it doesn't make sense that they would play in countries where homosexuals are persecuted and jailed. Even with the "bathroom bill," LGBT persons living in North Carolina have far more rights than they do in Turkey or Russia. Maroon 5 jumping on the boycott bandwagon may be good PR for the group, but it's meaningless if they continue to perform in countries where LGBT rights are severely restricted, The Celebrity Cafe reported.
In April, Bruce Springsteen and the E Street Band canceled its show in Greensboro while rock band Pearl Jam canceled its show in Raleigh. Other cancellations include Nick Jonas and Demi Lovato, who are touring in tandem, Boston, and Ringo Starr. In addition, Cirque du Soleil dropped its North Carolina shows.
The state's law, HB2, requires individuals to use bathrooms of the gender on their birth certificate. It passed in March and has caused controversy and drawn fervent criticism.
Some companies have also reacted in opposition. Deutsche Bank and PayPal pulled the plug on plans to expand in North Carolina, costing the state 650 jobs.
A spokesman for Republican Gov. Pat McCrory in his race against Democratic Attorney General Roy Cooper, who opposes the law, responded by email. Spokesman Ricky Diaz said hundreds of performances, including one by Beyonce, have taken place in North Carolina since the law passed in March.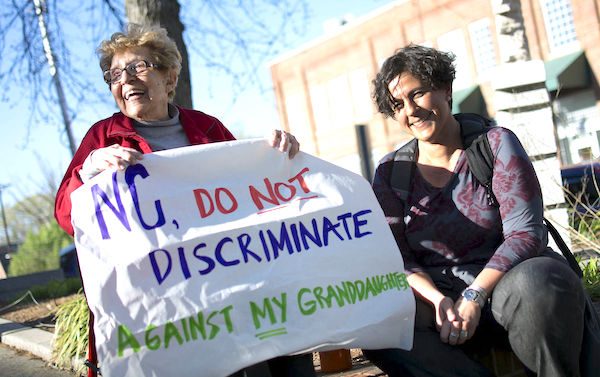 While Maroon 5 cancels their shows, most believe they are only hurting its fans by "hypocritically targeting North Carolina for selective outrage," noting that the group has not canceled a concert in Russia. Beyonce did perform at N.C. State University in Raleigh, but only after she promoted the efforts of those trying to get the law reversed.
Beyonce posted an image of herself wearing Equality NC's "Y'all Means All" T-shirt and posted a statement supporting equality and encouraging donations to the group. "We think it is important for us to bring attention to those who are committed to being good and carrying on the message of equality in this core of controversy," her statement read.
The Spectrum says that as Maroon 5 cancels in North Carolina, other performers, including Cyndi Lauper and the comedian Louis C.K., said they would donate proceeds from their shows to groups fighting the law known as HB2. The NBA also could move the 2017 All-Star game out of Charlotte.