An alligator in Dallas was captured just a few feet away from a middle school Wednesday morning, sending parents and students into shock. A sheriff's deputy on routine patrol spotted the 7-foot alligator in a field next to D. A. Hulcy Steam Middle School.
Dallas police said an officer was patrolling the area near Steam Middle School just after midnight when he saw what he thought was a log, CBS reports. As the officer approached, he realized it was actually a large alligator outside the school.
Alligator hunters with the Texas Game Warden were called and the animal was captured, but not without putting up a fight. The creature was seen rolling on the ground before it was eventually loaded into the Dallas County Game Warden's truck.
While the alligator in Dallas was captured, students arrived for class hours later. Parents who watched the capture on the morning news couldn't believe it.
"Like how did it get here, where did it come from, it just appeared in the middle of the night," exclaimed parent Tara Wilder. "It just came out of the blue, and it's like, 'Hey y'all, I'm here."
School officials said there is a small creek and pond nearby, but there's no word on where the gator came from. The Texas Game Wardens office says it's not unusual for gators to wander off and get displaced after periods of heavy rain. It is believed to be an isolated incident, ABC News reported.
The alligator was taken away to the game wardens office. The school day continued as usual, though the principal said kids would not be allowed on the fenced soccer field, near the area where the gator was discovered, as a precaution.
The middle school just opened in the 2015-2016 school year with about 240 sixth grade students. Warden Jamie Sanchez said the capture went down just as it should.
"It's a defense mechanism, especially when we put the noose on it," he said. "I think it would be pretty scary. Big alligator like that would scare anybody."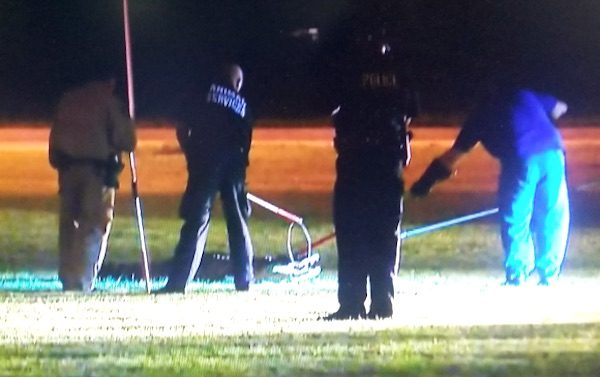 Sanchez said alligators are fairly common in Dallas. His office does get a few calls every year for alligators that are loose in neighborhoods.
But it is not yet clear where this 7-foot alligator came from. There are a few creeks in the area, but no obvious wetlands.
FOX News said the alligator in Dallas was being moved to the Palmetto-Alligator Slough Preserve in Seagoville. They were unable to obtain a permit quickly enough, though, so they released the alligator into the Trinity River in south Dallas County.