Atari will be building IoT hardware for smart devices as part of a new hardware offer using it's classic video game technology. There aren't many details about exactly what new gadgets they'll make, but they will range from "simple" to "highly sophisticated," and will be in the home, pets, lifestyle and safety categories for its video game console.
Get ready for some classic gaming because Atari also says the new hardware is a result of a partnership with Sigfox — the same company behind the connected Antarctic research base, VentureBeat reports. Sigfox's IoT technology will provide instant the connectivity and the promise of extra long battery life.
The company says it's focusing on the mass market, as well as the charity sector, and that the Atari IoT devices will provide various functionality, such as GPS tracking, provide status and temperature info and other basic functionality such as a panic button, or alerting family that you've run out of gas. Atari mentioned a wide range of potential markets including kids (trackers), sports, travel and collars for pets.
This isn't the first time Atari has tried to reinvent itself. Over the company's 40-year history, it has made arcade games, traditional consoles, home computers, handhelds and, of course, amassed a healthy library of game franchises.
Titles that have been reimagined (several times) for modern platforms, with the new Atari IoT devices that are announced, there's no telling what the classic game company has planned. More recent ventures include an LGBT-themed social game, and a move into online gambling, Ars Technica reported.
Of course, the Atari from the 70s is not the same company we see today. The original firm, as founded by Nolan Bushnell, changed hands in the 80s after the video game crash in 1983.
The Tramiel family, of Commodore and Amiga fame then led Atari's consumer electronics division into the 90s before a a series of deals would ultimately see the Atari brand and catalog become a licensing operation. The Atari brand introduced the early video game Pong and went on to make a series of popular video games and consoles. The company in its current form hasn't been selling any form of hardware.
No doubt it'll be interesting to see what any new hardware will look like and whether Atari can continue to trade on the good will and nostalgia of people who love its games. Even the company's biggest mistakes have a habit of working out well in the end.
SigFox is one of several startups building specialized networks for IoT devices. Its technology is designed to carry tiny amounts of data in two directions with low-power consumption so small, battery-operated devices can run for years without recharging.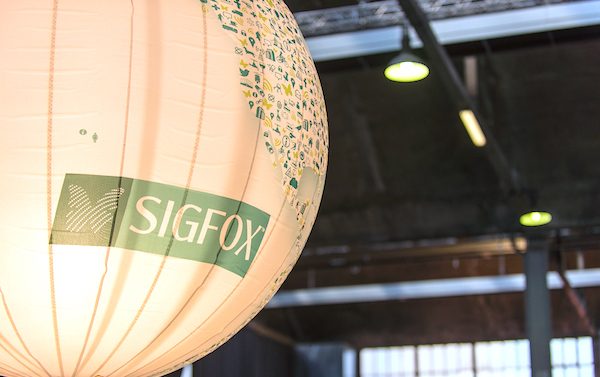 One advantage of SigFox is that it doesn't force consumers to set up cellular service or pair their devices with something nearby. Each hardware product will connect itself to the network as soon as the batteries go in, the companies said.
But SigFox isn't the only company pushing this kind of technology, called LPWAN (low-power wide-area network), which Machina Research estimates will connect nearly 1.5 billion devices by 2020. Rivals include Ingenu, with its own proprietary technology, and companies using the LoRaWAN and NB-IoT systems.
Silicon Apple said that while the Atari IoT devices are underway, there are many uses of the SigFox network that involve big industrial customers like energy companies with smart meters. More consumer devices from a well-known brand like Atari may create broader demand to support wider deployments.