3 people were killed when their private twin-engine plane crashed near a subdivision in South Carolina. A pilot and two passengers were the only people on the plane before it went down.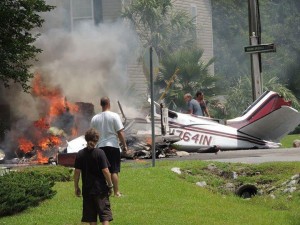 Scott Thompson, the Assistant Chief of the Horry County Fire Department, confirmed that the aircraft skidded on Dunn Short Cut Road as it damaged a power pole.
Deputy Coroner Derris Fowler identified the victims as Kenneth Piuma, 42, of the Myrtle Beach area; Donald Dale Becker, 16, of Conway and James Major, 39, also of Conway who is believed to be the pilot.
Lt. Selena Smalls with Conway Police Department said the three people on the plane are confirmed dead in the crash.
Horry County Electric was on the scene of the crash. Thompson added that right now there are no confirmed reports of any other injuries to people near the scene.
An FAA spokesperson said the Beechcraft BE55 Baron was returning to the airport when it crashed. One witness said the plane clipped an electrical wire before going down, cutting off power to local residents.
The airport and site of the crash are about 20 miles northwest of Myrtle Beach.
The National Transportation and Safety Board (NTSB) investigators are on their way to the scene, Smalls said.
Smalls said there was no damage to any homes in the area as the plane crashed at the subdivision's entrance.
Penelope Hinson with Horry Electric says around 200 homes and businesses are without power due to the plane crash. They are working to restore service to everyone, but those living closest to the crash site will be without power until the scene is cleared by authorities and the power crews are allowed inside the area, Hinson said.
The traffic light near the Wal Mart on US 501 is without power from the crash as well. This is causing some traffic issues Saturday afternoon with beach traffic heading in.
This is second deadly plane crash in less than a week. John Prince Harris, age 79, of West Virginia died in a crash Monday in Georgetown County.