Three Mount Everest climbers have died while descending from the summit due to exhaustion. The deaths on Everest are the first confirmed this year on the world's highest mountain. Subhash Paul, 43-year-old of India, climbed the 8,850 metres to reach the peak on Saturday and perished the next day, Wangchu Sherpa of the Trekking Camp Nepal company said.
Eric Arnold of Holland and Maria Strydom of Australia have also died as a result of altitude sickness in what climbers call the "death zone," an area where the air is so thin climbers are forced to carry supplementary oxygen, FOX News reports.
The recent deaths have raised questions about safety standards and veteran Mount Everest climbers are complaining about crowding on the mountain. Mountaineers often wait on the final stretch to the summit, often times only secured by a single rope line. Consequently, inexperienced climbers hold up others, putting them at risk.
"Many climbers without any experience crowd Everest every year, and companies often use poor quality equipment… offering cheap packages to clients who are exposed to security risks," Nepal Mountaineering Association Chief Ang Tshering Sherpa said. Hiking officials are pointing fingers at the government for charging $11,000 US for each Everest Permit and failing to spend any money on safety measures.
About $3.1 million has been collected in permit fees from 289 Mount Everest climbers so far this year. However, tourism department official Sudarshan Dhakal says inadequate preparation is to blame, Forbes reported.
"The deaths were not due to accident or crowd," Dhakal said. "Energy loss and altitude sickness mean they were not well prepared."
Arnold had enough oxygen with him, as well as Everest climbing partners, according to Pasang Phurba of the Seven Summit Treks agency in Kathmandu, Nepal. However, he complained of getting weak and died as a result of altitude sickness on Friday night near South Col before he was able to get to a lower altitude.
Hours later, Strydom also showed signs of altitude sickness Saturday afternoon before she died, according to Phurba. Arnold's last Tweet was sent Friday and reads he had reached the summit on his fifth attempt.
A rescue team has been assembled to retrieve the bodies of Strydom and Arnold. Officials say it takes at least eight Sherpas to carry down bodies from Everest as they become frozen and heavy.
Strydom's husband veterinarian Robert Gropel attempted to carry his wife's body down the mountain, while he was also suffering from high altitude pulmonary oedema, according to the Mount Everest expedition leader. Sadly, Gropel was unsuccessful and later evacuated by helicopter to Kathmandu Monday.
Favorable weather conditions have allowed hundreds of climbers to reach the summit this year. On Saturday, 19-year-old Alyssa Azar became the youngest Australian to reach the Mount Everest peak. The successful and busy climbing season follows two years of devastating natural disasters on the mountain.
Two Mount Everest climbers from India have been reported missing since Saturday and officials say the likelihood of finding them alive is slim. A 45-year-old woman from Norway, Siv Harstad, suffered snow blindness and was guided down the summit on Saturday by two Sherpas. There are plans for her to be evacuated from Mount Everest by helicopter.
Meanwhile, another climber of India had frostbite on her hands and feet at the South Col camp and was unable to move. Several Sherpa guides managed to carry her down to safety.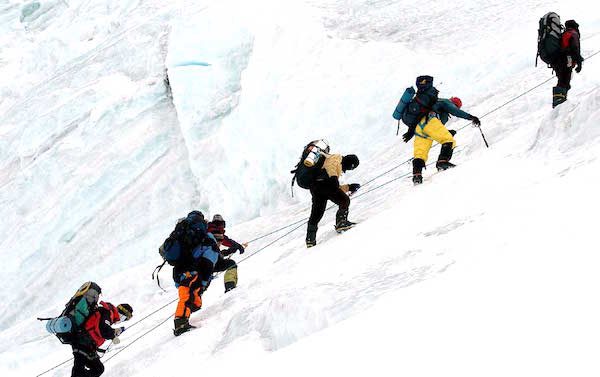 Strydom was a finance lecturer at Monash University's Business School in Melbourne. According to the school's website, Everest was a natural progression for Strydom, who over the past eight years has climbed Denali in Alaska, Aconcagua in Argentina, Mount Ararat in eastern Turkey, and Kilimanjaro in Africa.
"I guess everyone who gets into high altitude mountain climbing casts a fleeting thought towards Mount Everest," says Strydom in the news article. "There are certain aspects of the mountain which will be out of our control, such as avalanches and icefalls which have plagued the previous two seasons on Everest. We can't worry about this aspect of the climb and the odds are still very small of being caught up in it."
USA Today said that after Everest, Strydom had plans of climbing Mount Vinson in Antarctica. Over 330 Mount Everest climbers have reached the summit from Nepal since May 11 and several more have done so from the northern routes in Tibet.