The Aston Martin DB11 will soon be unveiled at the Geneva Motor Show. The DB11 is the first in a new generation of automobiles by the British manufacturer, which will signal a changing of the guard within its lineup, with an emphasis placed on catching up to some of its opponents, according to Autoblog.
The DB11 is set for a release later this year and will sit below the Vanquish and above the Vantage. Aston Martin has in the past received criticism of its lineup, some arguing that the current lineup doesn't have enough variety.
Company CEO Andy Palmer addressed this during a Q and A with journalists recently, saying: "One could argue there is not enough separation between DB9 and Vantage. One could easily cross-shop between the two."
The Aston Martin DB11 will receive an all-new aluminium-bonded platform, which will also underpin both the next-generation Vantage and Vanquish models. No pictures or details of the upcoming DB11 have been confirmed by Aston Martin for the moment, aside from a video posted last month previewing a new twin-turbocharged V12 engine.
A spy photo also surfaced last month showing a mysterious vehicle during a photo shoot, which was believed to be the DB11.
The new twin-turbo engine is set to be an in-house Aston Martin unit and not an engine derived from Mercedes-Benz's AMG division as initially thought. Mercedes Benz is rumored to be developing a new V8 for the next-gen Vantage however. Daimler, the parent company of Mercedes, has a 5 percent stake in Aston Martin, so the gesture is more than simply altruism.
The DB11's unveiling signals a shift in momentum for automaker, with all-new Vantage and Vanquish models expected to arrive by 2018, as well as foray into the world of SUVs with an uber-luxurious model, based on the DBX concept. The DBX will compete with the likes of the Bentley Bentayga and an expected Rolls-Royce SUV.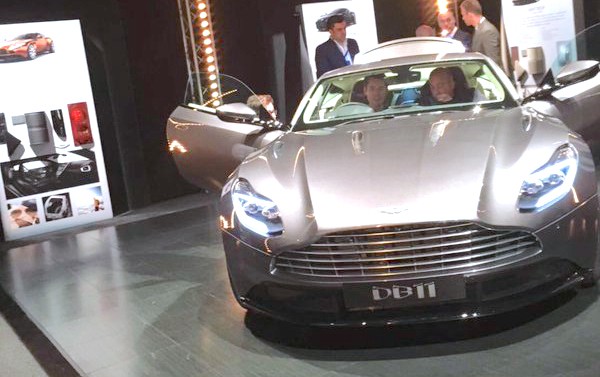 Aston Martin is also developing electric versions of its DBX and Lagonda concepts, heralding the 'new' age of Aston that isn't afraid to experiment. Speaking about the new generation shift at Aston, Palmer said: "In 102 years we have created fantastic brand but not a fantastic business. Basically there was no foresight into the future beyond the funding of the next vehicle. We need to create enough working capital to fund the next car and the next car after that."
And under that hood of the Aston Martin DB11 is an all-new 5.2-liter twin-turbo V12 believed to crank out 600 horsepower. Expect to see this car in real-deal form at the Geneva Motor Show next month.