Canada's missing indigenous women mystery continues on a path of confusion. That's because Indigenous Affairs Minister Carolyn Bennett said listening to families of victims has made her believe the official statistics do not tell the whole story, according to the New York Times.
Bennett said there was enough evidence to make her doubt the RCMP had accurately captured the magnitude of the problem, especially since many families spoke of missing women and deaths that were not ruled to be homicides. "The minute the police call it a suicide or an accident or natural causes or an overdose, it means there's no investigation," Bennett said of the indigenous tragedy in Canada.
"It's very important that we're describing a tragedy, not just counting missing and murdered, because that doesn't describe the reality of these families and the voices of survivors," Bennett told reporters in the foyer of the House of Commons after a cabinet meeting.
Canada's missing indigenous women investigation wrapped up the consultation phase of its promised national inquiry this week after Bennett, Justice Minister Jody Wilson-Raybould and Status of Women Minister Patricia Hajdu spent two months travelling nationwide to hear from the families and loved ones of victims.
Bennett nonetheless said the RCMP, "did their very best" in working with other police forces to come up with the numbers in their 2014 report on missing and murdered Canada women. That report concluded there were 1,181 cases of missing or murdered indigenous women and girls dating from 1980 to 2012, including 1,017 homicides and 164 missing persons.
The Mounties updated those numbers last year to include 32 new homicides within RCMP jurisdiction from 2013 to 2014, as well as 11 new cases of missing indigenous women.
A recent investigation into the Canada women also raised questions about those numbers, particularly when it comes to solve rates of homicides and relationships between perpetrators and victims. Asked by a reporter whether she was prejudging the outcome of the inquiry by stating there were more cases than the RCMP had counted, Bennett said it was important to hear what the families are saying.
"We need better data and we also though, need to take seriously the narrative of families who… have a case to make in terms of the fact that their loved one's death was determined not a murder and therefore received no investigation," she said.
One of the deaths that would not be included in the missing women tally is that of Rena Fox, who was 38 when her body was discovered along a gravel and dirt road in Kakabeka Falls, Ont., on Feb. 28, 2003. Her daughter, Bryanne Machimity, 27, said she was told her mother died of natural causes, but she remembers seeing bruises on her face, covered with makeup, at her funeral.
The Ontario Provincial Police said last year her death was not considered a murder, but noted the investigation would remain open until they could determine the circumstances surrounding her death. Other missing women cases were treated the same.
"It's like it doesn't matter, like no one took any of it seriously. It was kind of brushed away," Machimity said Tuesday from her home in Kenora, Ont.
Dawn Lavell-Harvard, president of the Native Women's Association of Canada, said that whatever the accurate number might be, the fact that families believe the names of their loved ones are not on the official list, which the RCMP has not made public, underscores the need for an inquiry. She also said Bennett is in a difficult spot when it comes to empathizing with families.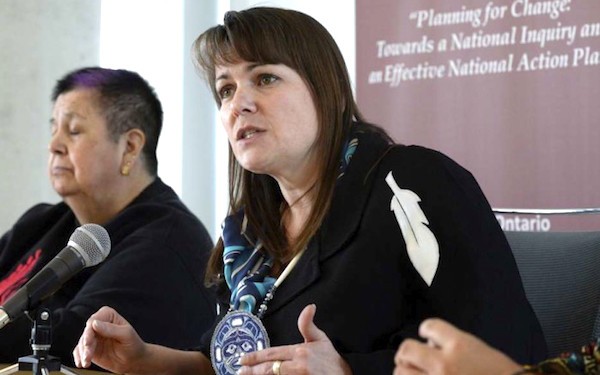 "It's a really tough position to be in, because you don't want to be passing judgment ahead of time, but after sitting with families it is very hard not to say clearly there is something wrong, there are some cases that need to be looked into again," she said. "It's a tough position to be in, which is why we have stated from the outset as well the importance of independence in this inquiry, so that everybody has faith in the credibility of the outcome," she said.
Canada's missing indigenous women critic Charlie Angus said he is concerned about drawing too many conclusions on a highly sensitive issue before the national inquiry gets underway. "We've heard the deep, deep emotion in the community, but we need to be able to come back to the community with facts, with a sense of 'this is what we found,'" Angus said.