An Earthquake shakes California with a magnitude-5.2 centered in the desert near Borrego Springs in San Diego County, according to the USGS. The earthquake was initially reported with a magnitude of 5.1 before it was revised by the USGS.
The 5.2-magnitude Southern California earthquake was followed by a series of smaller aftershocks in Borrego Springs, including a 3.5 magnitude quake at 4:14 a.m., according to the USGS. The California Highway Patrol said the jolt triggered a minor rockslide on Montezuma Valley Road, about 14 miles southeast of Borrego Springs.
As the Earthquake shakes California, many residents are still reporting aftershocks in Borrego Springs, according to Nature World News. The town is about 150 miles southeast of downtown Los Angeles.
"We get a magnitude 4 or 5 pretty regularly here," said Caltech seismologist Jennifer Andrews. There were no reports of injuries or significant damage in Los Angeles, Orange, and San Diego counties, fire officials said, but the shaking served as a wake-up call for many Southern Californians.
Around 2:45 a.m., about 3,000 people reported feeling the Southern California earthquake. Residents reported shaking in Los Angeles, Orange, Ventura and San Diego counties, and the Inland Empire.
"I was just up late checking some emails doing some homework, and then all of a sudden I feel this shake," said San Gabriel resident Roxanne Menchaca.
In Murrieta, about 70 miles north of Borrego Springs, customers and employees at a Denny's shared some tense moments. Jennifer Najera was ringing up a customer at the register when she felt the swaying. "It felt like forever, but it must have been maybe 10, 15 seconds," said Najera. "I leaned forward, and I thought, 'Wow, that couldn't be me.'"
Joelle Asperas and his grandfather stopped into the restaurant after a hospital visit. "We were hanging on," said Asperas. "The nurse was trying to put an IV in my grandfather at the same time, while it was shaking."
Among others who felt the quake and reacted on social media was skateboarding legend and Carlsbad resident Tony Hawk. "Earthquake! It felt like a bus hit our house," Hawk said via Twitter.
There were at least eight aftershocks in the same general area within 3 hours and 10 minutes. The strongest were magnitude-3.5 shakers at 1:06 a.m., 1:33 a.m. and 4.14 a.m. — all at a depth of slightly more than 6 miles, the Tech Times reports.
The earthquake was near the San Jacinto Fault, which is historically Southern California's most active fault. Friday's quake was near the locations of a magnitude-6 quake in 1937 and a magnitude-5.3 quake in 1980.
The San Jacinto Fault extends through the desert and the communities of Lyle Creek, San Bernardino, Loma Linda, San Jacinto, Hemet, Anza, Borrego Springs and Ocotillo Wells.
In July 1923, a magnitude-6.3 earthquake rattled the region, damaging chimneys and windows. The San Bernardino County Hospital and the Hall of Records were badly damaged.
Two people suffered critical injuries, but no fatalities were reported. Shaking was reported as far away as Los Angeles and Santa Barbara.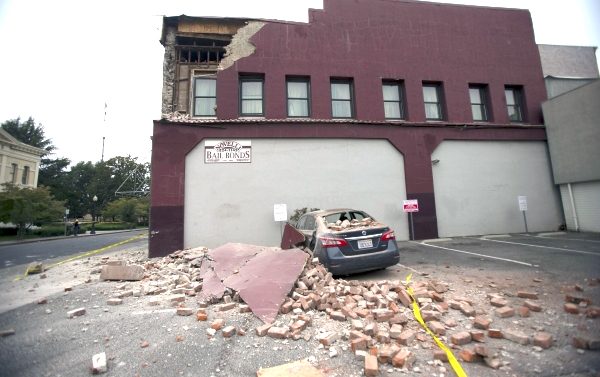 In March 1937, a magnitude-6 quake reported near the fault was called the Terwilliger Valley Earthquake, which caused similar damage. The 1980 quake caused a landslide that led to a closure on Highway 74 between Spring Crest and Palm Springs.
"We have never seen a San Andreas earthquake triggered by a San Jacinto earthquake," said retired USGS geologist Dr. Lucy Jones in a post on Twitter, referring to the state's most famous fault.
The Deseret News said that while the earthquake shakes California, people are still posting on Facebook about the aftershocks. "Within the first 2 seconds or so, I noticed this was a large-size quake," one person wrote. "The jolt was strong enough for me to recognize this wasn't a (magnitude) 3 or 4."