​California Earthquake Near Borrego Springs With Magnitude 5.2 Amid More Aftershocks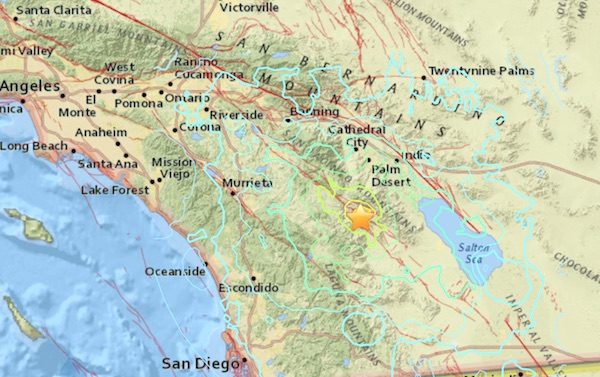 A Southern California earthquake was reported by the United States Geological Survey Friday morning in Borrego Springs near the Anza Borrego Desert State Park at a depth of .6 miles with a magnitude of 5.2 with enough strength capable of generating considerable damage.
The strong earthquake struck at 1:04 a.m. knocking residents from their sleep. Riverside County Fire Department says they have no reports of damage in the County at this time. California Highway Patrol says some drivers are reporting that boulders are on the roadway from the earthquake near Palm Desert, according to NBC News.
The Southern California earthquake in Borrego Springs had an epicenter was 13 miles north-northwest of Borrego Springs in San Diego County and 16 miles south-southwest of La Quinta in Riverside County. It was strong enough to be felt in Los Angeles, ABC News reports.
There have been at least eight aftershocks ranging from 2.6-3.5. The earthquake occurred along the San Jacinto Fault, historically the most active fault in Southern California, according to seismologist Lucy Jones.
It was near a magnitude-6 earthquake in 1937 and a magnitude-5.3 earthquake in 1980, Jones reported. "We have never seen a San Andreas earthquake triggered by a San Jacinto earthquake," Jones said referring to the state's most famous fault.
"Every earthquake has a 5 percent of triggering an aftershock that is bigger than itself — always within a few miles of location of the first earthquake," Jones said.
USGS geophysicist Amy Vaughan says the temblor touched off a series of smaller aftershocks. She says it was strong enough to likely have woken people up, the Desert Sun reported.
Reflexively, hundreds of people turned to social media to share their experience and also verify that the quake really happened.
"I'm scared now great, won't be able to go back to sleep #earthquake," one girl tweeted. "Why does the #earthquake always come while I'm sleeping then I have to look on Twitter to make sure it wasn't a dream," a woman in Los Angeles tweeted.
Ron and Teri Walker were inside their hotel in Palm Springs when the room began to shake. "We held each other, not sure what the next step was. What do we do?" Teri Walker said.
A Downey woman called a local radio station and said it struck with "a soft roll," then later "hit again stronger." A caller from Costa Mesa described a "back and forth" sensation.
There were several aftershocks, including a magnitude 3.3 jolt 13 miles from Anza, California, at 1:46 a.m. at a depth of 6.8 miles. Anza is in southern Riverside County.
There at least four magnitude 3.0 aftershocks and a fifth recorded as a magnitude 3.3, Jones said. A telltale sign that a quake is going to be large is how long it lasts, she said. "If you feel 10+ sec of shaking, you know it is at least [magnitude 5.0]" Jones wrote on twitter.
Hollywood Life said the Southern California earthquake in Borrego Springs prompted people in San Diego and Los Angeles, about 100 miles to the west, to take their experiences to Facebook and other social media sites. Rancho Mirage is in Riverside County, about 10 miles south of Palm Springs.