​FAA Testing GPS Advisory Warns Pilots Of Jammed Signals
FAA Testing GPS - The agency will be jamming signals on the West Coast over California and Nevada. The FAA issued an advisory warning pilots positioning systems could be unreliable during six different days this month.
We found that the reason for the test is not exactly clear, but the US military will be testing a device or devices that will potentially jam GPS signals for six hours each day, according to the flight advisory. These tests are centered near the US Navy's largest installation in the Mojave Desert, China Lake, located near the Area 51 military base.
While the FAA is testing GPS signals, the Navy has kept silent about the nature of the advisory. On June 7, 9, 21, 23, 28, and 30th the GPS interference testing will be taking place between 9:30am and 3:30pm Pacific time. But if you're on the ground, the public probably won't notice interference, Gizmodo reported.
The dates and times of potential GPS outages per the FAA are shown below:
7 JUN 16 1630Z – 2230Z
9 JUN 16 1630Z – 2230Z
21 JUN 16 1630Z – 2230Z
23 JUN 16 1630Z – 2230Z
28 JUN 16 1630Z – 2230Z
30 JUN 16 1630Z – 2230Z
The FAA testing will be centered on China Lake, California - home to the Navy's 1.1 million acre Naval Air Weapons Center in the Mojave Desert. The potentially lost signals will stretch hundreds of miles in each direction and will affect various types of GPS, reaching the furthest at higher altitudes.
However, after speaking with someone familiar with the matter, we found out that the jamming will only affect aircraft above 50 feet and will almost reach the California-Oregon border at 40,000 feet above sea level with 505 nautical miles at its greatest range.
"We're aware of the flight advisory," Deidre Patin, Public Affairs specialist for Naval Air Warfare Center Weapons Division said, but she couldn't give any further details about whether there was indeed GPS "jamming," nor whether it had happened before. Patin added, "I can't go into the details of the testing, it's general testing for our ranges."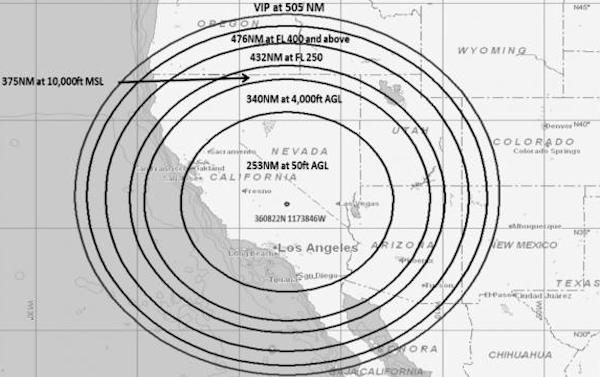 Glen Winn, an instructor at the University of Southern California who worked for United and Northwest airlines, said the specific warning about the Embraer was interesting because those business jets are growing in popularity. But he said commercial airliners have enough backup systems that they shouldn't be affected.
"They alerted everyone, and that's good," Winn said. "It won't affect commercial aviation because there are so many other backup systems that are wired into the programming for the airliners."
SlashGear notes that while the FAA is testing GPS signals, all private and commercial pilots flying into Santa Monica will have to find alternative routes in the affected intervals, due to the FAA's warning that the jamming test could interfere with the business jet's "aircraft flight stability controls."