A Navy exercise in the South China Sea includes the United States, India and Japan as they began their marine war games near Okinawa Island, about 200 miles from the contested Senkaku Islands, hunting for Chinese submarines, ships, recreating scenario of countering a hostile Chinese People' Liberation Army.
The South China Sea problem began in early 2013 when China unilaterally established an Aircraft Defense Identification Zone that triggered protest from Japan, the United States, the European Union and Australia. China has claimed several islands in East and South China Sea.
The Navy exercise in the South China Sea, the annually held Malabar, has been recently expanded from a bilateral comprising India and the United States to a trilateral exercise to include Japan. This year the over-all control of the exercise will be with Japan.
Over 100 assets, including warships, fighters and surveillance aircrafts, will be participating in this year's Malabar, indicating the size and intent of the exercise. These 100 assets including the super carrier Nimitz class, the USS John C Stennis, over 20 major warships, about 50 anti-submarine warfare helicopters, long range maritime surveillance aircraft, and over 100 aircraft including Super Hornet fighters.
India is fielding its top of the line Indian-made stealth frigates INS Sahyadri and INS Satpura, Indian fleet tanker INS Shakti and INS Kirch - a missile corvette. Apart from this a detachment of Indian Marine Commandos and an anti-submarine warfare aircraft will also participate in the week long exercise. Japan will be fielding the JS Hyuga - helicopter carrier and destroyer - the largest warship in the stable of the Japanese Maritime Self-Defence Force.
One key elements of the exercise is anti-submarine warfare where three forces will create a scenario of hunting down Chinese submarines. This comes at a time when Chinese nuclear submarines are being increasingly spotted in the western sea board of India.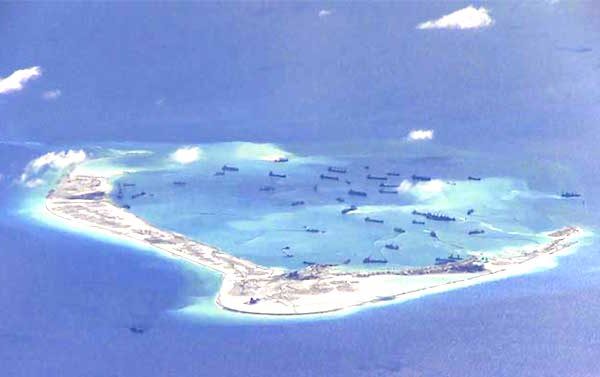 "The exercise will try and formulate procedure and validate maritime operations and tactics," a top Navy officer told NDTV and added that in the larger framework "the exercise will strengthen the Indo-Japan-US Naval cooperation."
Besides, anti-submarine warfare, the three navies will be enacting scenarios of anti-surface warfare and air defence. In simple terms it amounts to recreating a scenario where a belligerent Chinese military needs to be countered.
The Navy exercise in the South China Sea comes as China's aggressive stand in the region is raising concerns. While the US has carried out Freedom of Navigation (FoN) exercises in the area directly challenging China's claims, India and several other countries have raised the issue of freedom of navigation through oceans to counter China.