​Miley Fur Bathing Suit: Miley Cyrus Photos For V Magazine Cover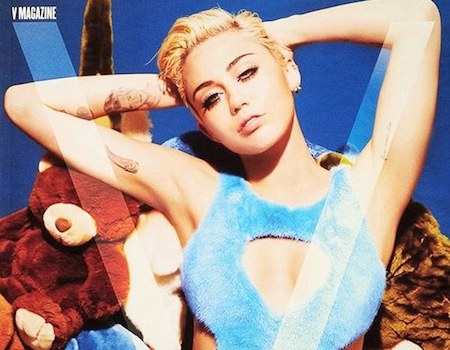 The Miley fur bathing suit is making headlines as the singer poses for V Magazine's 91st issue.
According to The Inquisitr, the photo shows Miley Cyrus wearing the blue one-piece while lying against a pile of stuffed animals. This only proves once again that she's one of today's most outrageous pop stars with an eagerness to shock. The magazine issue itself is titled the "Rebel Issue," which seems fitting.
The Miley fur bathing suit images were shot by Chanel designer Karl Lagerfeld. The 21-year-old poses on the front cover, which hits newsstands on September 10. The interview should be interesting.
In one photo, Miley Cyrus is seen laying against a pile of soft toys. She is wearing a pastel blue Fendi garment as she exposes most of her slender torso. There are several large cut-outs.
Cyrus puts her hands behind her head in the Miley fur bathing suit shoot to expose her many arm tattoos and looks sultrily at the camera. Alongside her image are the words: "Why Miley loves to provoke."
Gazing under eyelashes heavy with mascara and her hair swept back in a wet-look style, the Miley fur bathing suit is a sexy look for the Cyrus, but nothing compared to the promotional shot she shared with followers on her Instagram on Thursday.
Miley Cyrus lays bare in a black and white image, again, lying on top stuffed toys but this time al fresco against a hedgerow.
When she's not taking Miley fur bathing suit photos, she is usually tweaking on stage. It's been a year since Miley Cyrus stole the show with her performance with Robin Thicke at the 2013 VMAs, and at this year's event she made headlines once again.
However, instead of tweaking, the star sent a homeless young man named Jesse to collect her award. As Miley Cyrus won the Video of the Year award for Wrecking Ball, Jesse, 22, stood up in front of the audience to read a speech about the subject of homeless youth in LA — a cause close to the singer's heart.
While the Miley fur bathing suit photos are being published, the singer has promised a new sound for her next album and said she's focused on recording new music that will offer her fans something different.
Miley Cyrus told MTV:
"It's a little psychedelic, but still in the pop world … I live to be in the studio. This record may take me five years. I'm going to work on it until I'm done."
Overall, the VMAs were mostly quiet this year. Miley was definitely on her best behavior. But this could also be the clam before the storm, which anything is possible with Cyrus.
However, the new Miley fur bathing suit images is one example of pushing things to the edge. She loves the attention, and knows how to stir it. It's only a matter of time.
Editor's Picks