​Girl Accidentally Runs Marathon Instead Of 5K Race Leaving Mother Frightened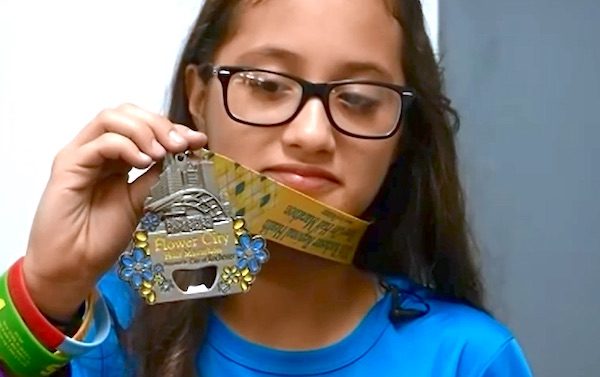 A 12-year-old girl accidentally runs a half-marathon by mistake. LeeAdianez Rodríguez hit the pavement Sunday, planning to run 3.1 miles, but the girl accidentally ran a half-marathon instead, giving her mother a major fright for more than an hour.
LeeAdianez, also known by friends and family as Lee or Adi, was running late when she rushed to the start line of the Rochester Regional Health Flower City Challenge Sunday morning, CNN reported. Mom Brendalee Espada had dropped her off around the corner and went to park her car.
Lee joined thousands of runners at the starting line on the Broad Street Bridge, not realizing she'd started running the half-marathon route through Rochester. She was registered to run the Wegmans Family 5K, which starts on the same bridge 15 minutes after the distance runners set off.
"She just saw people running and thought it was her race," said Ellen Brenner, co-owner of Fleet Feet Sports Rochester and YellowJacket Racing, which operated Sunday's races. "The last time I saw this was a few years ago at Rochester Marathon where people would accidentally miss the turn on East and Winton."
That error caused the girl to accidentally run a half-marathon after sending her to the wrong course.
It is not often that a runner follows the wrong course in a race, Brenner said. It happens more frequently on training runs from Fleet Feet stores.
Sunday's run was meant to be Lee's second 5K race. Instead, she finished 13.1 miles in 2:43:31, according to race results. She placed 1,885th of 2,111 finishers and was among the youngest to run the race. Five other 12-year-olds completed the course, as did one 7-year-old, according to People.
"She gave me a really big scare," Espada said.
For nearly two hours, Espada searched for her daughter in and around the finish line and adjacent to Blue Cross Arena at the Community War Memorial, where post-race festivities were held.
Espada first waited near the finish area, but when Lee's expected completion window passed without a glimpse of her daughter, Espada grew nervous. She approached race officials and Rochester police officers in the area and shared her concerns.
As Lee ran on, Espada was shocked to find out that her daughter never started the 5K. Lee, meanwhile, started to wonder why her race was taking so long, Espada said. About halfway through the course, Lee learned she was running with the wrong group.
But by then, she had logged more miles than ever before. So she kept running, not knowing that police were trying to find her. She simply wanted to finish the race.
In her final few miles, police and course officials spotted Lee running, Espada said. They spoke with her as she ran on.
"She just wanted to finish the race," Espada said. "Two hours after I started looking for her, I see that one of the officers found her. And I see she has a medal."
After a teary reunion filled with hugs, Espada said she was floored to know that her daughter completed the hilly 13.1-mile course.
"It was such a scary moment, but rewarding for her in the end," Espada said. "I don't even know how she did it. I'm so proud of her."
A sixth-grader at Genesee Community Charter School, Lee started running this year with the Monroe Milers, a volunteer-led running program for youth. She followed her big run with a nap, large meal and a hike.
Espada said her daughter loved the race and all of the encouragement she received from runners around her.
Next, the girl who accidentally ran a half-marathon plans to run The Color Run in May, the New York Daily News reported.
"But this one? We'll run it together at the same pace," Espada said. "Even if she wants to run ahead, she's staying with me."