​Yearbook Student Wearing 'ISIS' Prompts Immediate Concerns From Muslim Advocacy Group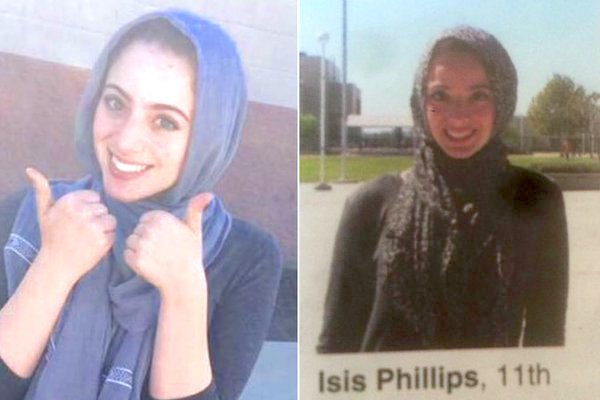 Yearbook student wearing 'Isis' prompts immediate concerns from Council on American-Islamic Relations over a recent incident when a Muslim student was misidentified. Bayan Zehlif took to social media early Friday to post an image that shows her yearbook photo.
"For this kind of incident to happen not only impacts your school experience but connects her to a reprehensible terrorist organization that nobody should be linked to," CAIR's Haroon Manjlai said in a statement, referring to the Islamic State group, Reuters reports.
The yearbook student wearing 'Isis' can be seen smiling as the 11th-grader is wearing a hijab with the incorrect name. About two hours later, the school's yearbook staff issued an apology.
"We are extremely sorry for what occurred in the Yearbook," the statement said. "It is our duty to represent the students of Los Osos High School and by mis-tagging and giving the incorrect name, we failed to do so. We should have checked each name carefully in the book and we had no intention to create this misunderstanding."
"It is our fault and this is absolutely inexcusable on our part," the statement continued. "We are currently working in coordination with the school and district office to remedy this situation."
I guess I'm Isis in the yearbook… pic.twitter.com/hMc0dVu8dM

— βΔYΔΠ (@BayanZehlif) May 7, 2016
About 90 minutes after the apology was published, Zehlif, on her Facebook page, posted the same image of the yearbook student wearing 'Isis' and its erroneous caption, ABC News reported.
"I am extremely saddened, disgusted, hurt and embarrassed that the Los Osos High School yearbook was able to get away with this," she wrote. "Apparently I am 'Isis' in the yearbook. The school reached out to me and had the audacity to say that this was a typo. I beg to differ, let's be real."
As of Sunday evening, Zehlif's tweet and her Facebook post had each been retweeted and shared, respectively, more than 3,400 times. On Saturday, Susan Petrocelli, the High School's principal, also used social media to issue an apology.
"LOHS is taking every step possible to correct & investigate a regrettable misprint discovered in the yearbook," Petrocelli stated on Twitter. "We sincerely apologize."
Superintendent Mat Holton, of the Chaffey Joint Union High School District, said Zehlif was misidentified as another student named Isis.
"If they find that a student acted irresponsibly and intentionally, administration will take appropriate actions," Holton told the newspaper, adding that 287 yearbooks had been distributed to Los Osos seniors. "The school will assure students, staff and the community that this regrettable incident in no way represents the values, or beliefs, of Los Osos High School."
The New York Daily News said the yearbook student wearing 'Isis' is asking the school to change the name. Bayan Zehlif, her family and CAIR officials were scheduled to meet with district officials this week.