​Graffiti Artist Banned From Parks After Writing On Rocks, Woman Sentenced For Vandelism To Community Service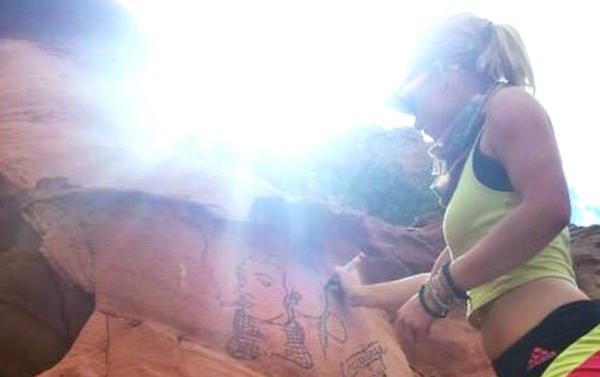 Graffiti artist banned from parks - A graffiti artist has been banned from all national parks for vandalism after users on Reddit tracked her down on social media. The graffiti artist, Casey Nocket, was also sentenced to 200 hours of community service and a fine for drawing faces in acrylic paint in at least six national parks: Death Valley, Colorado National Monument, Canyonlands, Zion and Crater Lake. But the artist says the art she left in the parks was not vandalism.
Under each graffiti picture the artist left her tag "Creepytings," which was also the name of her Tumblr blog and Instagram account. After the artist wrote in an Instagram post that she had used acrylic paint - which is very difficult to clean off - another user questioned her about it and she responded: "I know, I'm a bad person."
Nocket's devil-may-care attitude came back to haunt her, however, when outraged Reddit users tracked her down and reported her to the National Parks Service.
Nocket, a New York-based graffiti artist, first came to the attention of Reddit's climbing and hiking community when a backpacker posted a picture of one of her works that they had found on a trail in Yosemite. Users quickly began talking about the "National Park Vandal."
When the story was picked up by Casey Schreiner, who took screenshots of Nocket's Instagram and Tumblr accounts and posted them on his site Modern Hiker, things really began to snowball.
"That's when it really took off," Schreiner said. "My site got slammed – and that's when people started to see if they could dig in on their own and see if there were any other instances of graffiti that was posted."
For Schriener, and many others in the community, Nocket's graffiti hit a sore spot. "The American national parks are really, really special," he said. "And people have very strong attachment to these places. For a lot of people, visiting these parks has a very deep impact on who you become as a person."
"So for a lot of us, seeing these places vandalized feels like a kick in the gut, and it still feels like that."
One post to the Yosemite subreddit caught the attention of Steve Yu, an investigator for the National Parks Service. Yu reached out to Schreiner, who shared his screenshots of Nocket's artwork with the investigators. He also posted to the Reddit threads, where users began sending him evidence of Nocket's graffiti.
Charles Cuvelier, the chief of the National Parks Service's law enforcement arm, said that social media played a key role. "When there are acts of destruction and you make them known at large through social media, that is a powerful tool of investigation," he said.
At times, things got ugly. Nocket's social media accounts were posted to Reddit. A White House petition was started demanding that the Parks Service "pursue the most serious of charges for these offenses."
Nocket's Tumblr was deleted, and then restarted by someone else as a troll account. A family member spoke with the hiking blog Trailmob, and said that they were concerned for Nocket's safety.
Some users started posting her home address, though others quickly chastised them. In an update to his Reddit post, Yu wrote: "Please remember, EVERYONE in our society has the right to Due Process."
For Schriener, stopping people from posting unverified personal information or abuse in the comments on his blog became a full-time job.
"I understand that it comes from an emotional place," he said, "and I too felt that disgust. But I wish that people could focus the energy of leaving tirades in internet comments into volunteering in a national park, or donating to a national park [instead]."
In June, Nocket was charged with seven counts of injury or depredation against government property in six national parks in Oregon, California, Utah and Colorado.
The graffiti artist pleaded guilty to all seven counts, and on 13 June a federal magistrate sentenced her to 200 hours community service, and a fine of an amount to be specified at a separate hearing in December.
Nocket must also make a formal written apology to the National Park Service; and she has been banned from entering public lands administered by the National Park Service, United States Forest Service, Bureau of Land Management and US army corps of engineers - some 549 m acres, totaling more than 20% of the landmass of the US.