​Gov. Snyder Drinking Flint Water for 30 Days to Prove Safety During Visit At Distribution Station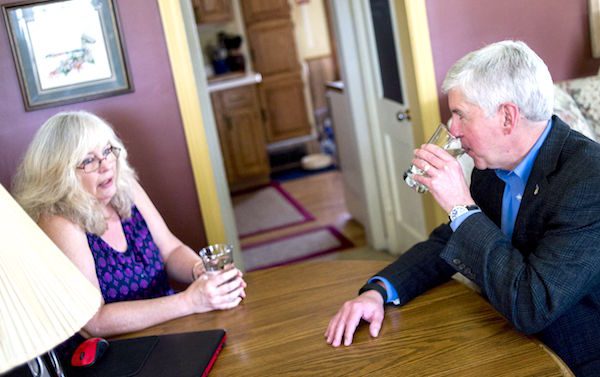 Gov. Snyder drinking Flint water for 30 days to show it is safe while filling three, gallons jugs during a visit to a distribution station at Greater Holy Temple Church. Asked if his family also would be partaking, he said his wife "Sue is on board with this." His three children no longer live at home.
Snyder's actions followed developments Friday, when the governor encouraged Flint residents to start using more filtered tap water instead of bottled water and was told by a state official that Flint residents wanted him to start drinking the tap water first, USA Today reports.
"I completely understand why some Flint residents are hesitant to drink the water and I am hopeful I can alleviate some of the skepticism and mistrust by putting words to action," Snyder said. "Flint residents made it clear that they would like to see me personally drink the water, so today I am fulfilling that request. And I will continue drinking Flint water at work and at home for at least 30 days."
Snyder spokesman Ari Adler said two media outlets were invited to the home to watch Snyder drink the water. Snyder's office later released photos of him drinking the tap water.
The governor said he won't always be able to drink the Flint tap water when he is traveling, but he plans to drink it when he is at his downtown Ann Arbor home and when he is at work in his office in the Romney Building in Lansing. He said he will get more filtered Flint tap water when the initial three gallons runs out, the Washington Post noted.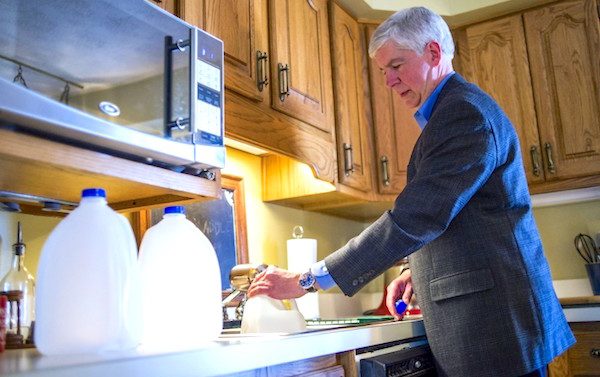 But Snyder's comments drew immediate criticism from some Flint residents as a public relations exercise.
"His whole family has to drink it," said Elizabeth Taylor, 73, a Flint retiree who said she doesn't feel the filtered water is safe to drink. "They have to cook with it and bathe with it." Taylor also questioned why Snyder didn't give notice he was coming to Flint and expressed skepticism that Snyder will drink the Flint water for the next 30 days. "He thinks we just trust him because he says so?"
Flint's water became contaminated with lead in April 2014 when the city, while under the control of a state-appointed emergency manager, switched its drinking water source from Lake Huron water treated by the Detroit water system to Flint River water treated at the Flint Water Treatment Plant. Michigan Department of Environmental Quality officials have acknowledged a disastrous mistake when they failed to require the city to add corrosion-control chemicals as part of the treatment process.
The corrosive water caused lead to leach from pipes, joints and fixtures. Although Flint reconnected to Detroit water in October, after state officials acknowledged the lead-poisoning problem after months of denials, the risk remains because of damage to the water infrastructure system, MLive reported.
Officials also are exploring possible links between the river water and outbreaks of Legionnaires' disease tied to 12 area deaths.
The state and city are now treating the pipes with higher levels of phosphates in an effort to build up a protective coating that will prevent lead from leaching. Having more water flowing in the system would help that process, and that's one reason Snyder and other state officials want Flint residents to start using their taps again.
Officials says the more Flint residents run water through their pipes, the quicker the distribution system will heal. That's one of the reasons Snyder said he encouraged residents Friday to start using more filtered water, instead of bottled water.
Snyder's comments, however, may have spurred fears that the free distribution of bottled water will soon be cut off.
The New York Daily News said William Harris, a team support leader at the water distribution station Snyder visited Monday, said some residents are stockpiling so much water that the foundations of their homes are shifting. He said residents are able take as much free bottled water as they want when they visit water distribution stations in Flint. There are no plans to stop distributing the water and no need to stockpile, Harris said.