​Apple TestFlight Supports iOS 10, watchOS 3 and tvOS Apps In New Testing Platform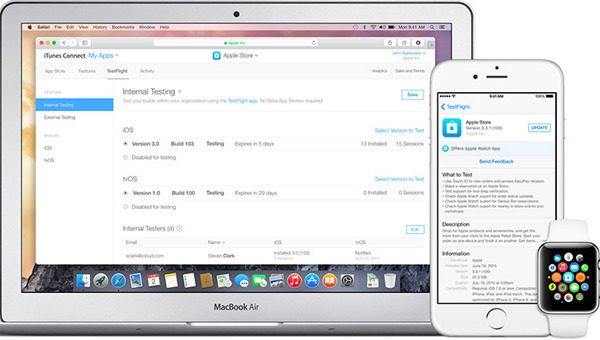 Apple Inc. announced its TestFlight app that will serve as an app testing platform to support software running in the latest beta environments, and rolled out new App Store optimization and analytics tools for developers accessible through iTunes Connect.
According to an announcement posted to Apple's Developer portal, TestFlight is now compatible with apps developed for the iOS 10, watchOS 3 and tvOS 10 betas released on Monday. The release supports a number of newly introduced features like SiriKit and push notifications for tvOS, among many others.
In accompanying release notes Apple reminded developers that all beta apps in iOS 10 include a 3D Touch Quick Action that grants testers home screen access to the app feedback system, a much simpler process than digging around for an in-app feedback form.
Overall stability has been improved, though Apple notes beta apps installed through TestFlight might be inadvertently replaced by shipping App Store versions if the automatic app update feature is turned on. A fix will be included in a subsequent release.
In addition, all of the newer Siri features will be available to you, as well. The second big Siri upgrade is that Siri now works with the YouTube app-one of the most popular third-party tvOS apps.
The highly anticipated move comes several years after Siri was first introduced for the iPhone and iPad in 2011 and 2012, respectively; fans have been demanding digital assistant on Mac products for a while. Apple seems to have followed through on that promise, and there's nowhere it's more evident than in the improvements that the company announced this week.
Default communication apps get a leg up too with the iOS 10. Regardless of whether you installed iOS 10 beta 1 legally or took the shadier approach, you can roll back your software to iOS 9.3.2 without losing any of your data.
As for iTunes Connect, Apple added a new analytics tool for measuring App Store impressions. Developers can now see how many times their app icon has been viewed on App Store search results, the Featured page, Top Charts lists and its own product page. The tool is capable of calculating conversion rates from anywhere on the App Store. Apple also published a document on App Store search optimization to help developers better target consumers.
Apple notes iMessage App submissions are not yet supported by iTunes Connect. Developers and testers can download TestFlight for free from the App Store.