​Las Vegas Heatwave Hits Death Valley With Record-Breaking Temperatures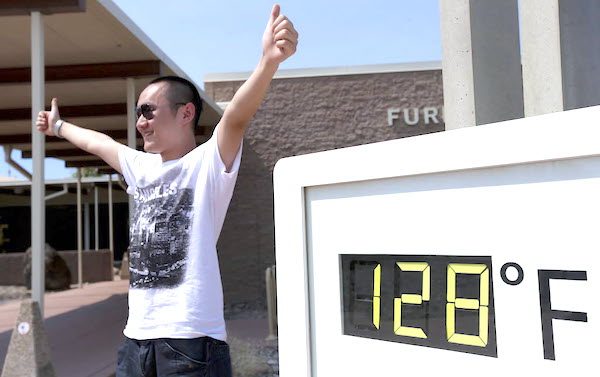 Las Vegas is experiencing hot temperatures as summer officially hits Death Valley with record-breaking heat, and more heat and sunshine are expected for the week ahead, according to the National Weather Service.
Even so, a pair of tourists found Las Vegas cooler than a previous stop. Olivia Eisman of Indiana and Erica Chavez of California, both 24, came to Las Vegas on Sunday and planned to leave Monday afternoon as part of a trek to see notable Southwest landmarks.
Eisman and Chavez acknowledged that the temperature was much warmer than their last trip to Las Vegas years ago, but they said it wasn't the hottest place they've been on their journey.
Related Stories: Male Strippers Tackle Robber Suspect At Excalibur in Las Vegas
"We were just in Death Valley two days ago," Chavez said laughing. "So this wasn't too bad."
Death Valley hit 126 degrees Monday, according to the National Weather Service, breaking the previous record of 125 degrees set in 1961. Las Vegas' morning low for Monday was 89 degrees, breaking the record of 86 degrees set in 1975, the weather service said.
Monday's 115 degrees marked the hottest day of the year, breaking the 113-degree record set in 2015, meteorologist Nathan Foster said. Tuesday's forecast high is 113 degrees, which is expected to break the record of 111 degrees set in 1954, Foster said.
The excessive heat advisory issued by the weather service will end Wednesday night, after the daytime high hits 110 degrees. High heat can cause air conditioning, cars and electrical systems to malfunction, Las Vegas Fire Department spokesman Tim Szymanski said.
These kinds of machines can catch fire when they overheat. Szymanski warns drivers who notice their car running poorly to park on the street rather in a garage.
"It's better to have the car burn up in the street than damage the garage," he said.
The heat can also cause power transformers to catch fire, leading to power outages.
Szymanski said it's hard to determine how many medical calls the department receives during the day are heat-related. High temperatures can exacerbate chronic medical issues, and some medical episodes aren't classified as heat emergencies until after the people suffering from them have been examined or treated at a hospital.
Many people with chronic medical issues are less likely to sense high heat on certain medications, Tony Fredrick of the Southern Nevada Heath District said.
"Don't wait until you're thirsty — keep drinking water," he said.
Related Stories: Hackers Steal Information From Las Vegas Sands Casino
The Southern Nevada Health District recommends that residents who don't have air conditioning in their homes go to cooling stations or public places such as libraries to escape the heat. Cooling stations are open at community centers valleywide during the excessive heat advisory, and there are three summer day shelters open for Las Vegas' homeless.
The weather service said the end of the week will see triple-digit temperatures in Las Vegas and Death Valley, 109 on Thursday, 108 on Friday, 107 on Saturday and 108 on Sunday, all with lows in the 80s.