​Weapons Found At Holland Tunnel Following Police Search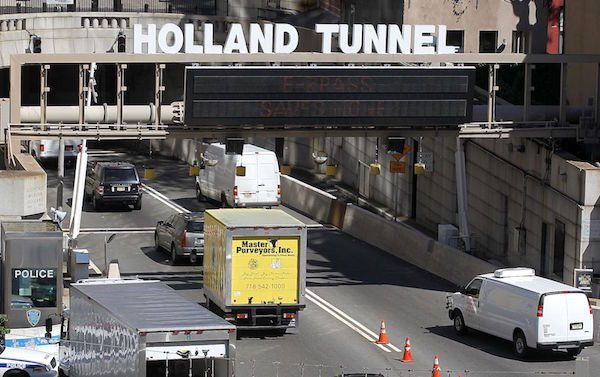 Police discovered a weapons cache in a vehicle at the Holland Tunnel as it was on its way to New York City on Tuesday. The driver consented to a search of the vehicle when authorities found the weapons.
Authorities arrested two men, aged 50 and 53, and a 29-year-old woman after finding multiple weapons — some loaded — including rifles and handguns in their vehicle, described by a law enforcement source as a "jacked up SUV." Ballistic vests and a camouflage helmet were also found in the vehicle.
Monitoring the events unfolding at the #HollandTunnel @PANYNJ @PANYNJ_HT https://t.co/K7waTyTLSU

— NYPDCounterterrorism (@NYPDCT) June 21, 2016
A spokeswoman for the Federal Bureau of Investigation, Kelly Langmesser, said that counter-terrorism agents weren't involved and the case didn't have a "terrorism nexus."
"If it's not terrorism, it's criminal," a source said.
Related Stories: Holland Tunnel Commuters Witness Birth Of Boy
The trio, from Pennsylvania, initially was stopped by Port Authority Police at a toll plaza for a cracked windshield at 7:40 a.m., authorities said. An officer saw the weapons in plain view on the passenger side of the vehicle.
Drugs were also recovered from the vehicle, which has been cleared from the scene but is still being processed for evidence.
The suspects' final destination was unclear. The Holland Tunnel's New York side is located in Lower Manhattan.