​Oakland Police Chief Steps Down Amid Scandal; Scandals From Illicit Sex To Racist Texts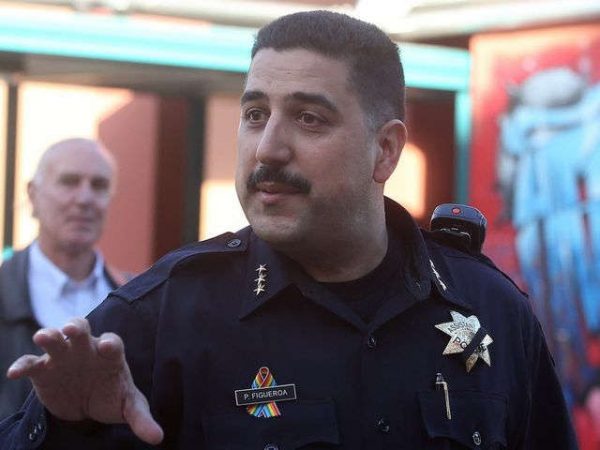 Oakland police chief steps down - The Oakland police department has gone through three police chiefs in eight days after scandals from illicit sex to racist texts that forced them to step down.
Acting chief Paul Figueroa became the latest casualty Friday when he stepped down after two days on the job. While he said the decision was not related to the scandals, it left the beleaguered department under civilian control.
Interim Oakland Police Chief Paul Figueroa arrived at Castlemont High School for a community meeting on Wednesday, June 15, in Oakland, Calif. Two days later, he announced he was stepping down.
Mayor Libby Schaaf said the city was about to close a new investigation focusing on racist text messages sent by police officers. That follows a probe into whether dozens of officers had sex with a teen-age prostitute.
"I will not choose to say anything today that will undermine the City Of Oakland's ability to impose the maximum discipline in this case," Schaaf wrote on Facebook. "As a mayor of Oakland, I am here to run a police department, not a frat house."
"I am determined to root out a culture that tolerates unethical behavior," the 50-year-old Democrat wrote. "At a time when communities across the country are questioning police culture, it is critical that our officers operate ethically. This is especially important in a community like Oakland, where trust between the police and the community has been broken in the past."
Schaaf had fired the city's first interim police chief, Ben Fairow, on Tuesday, less than a week after appointing him to run the department amid the sex scandal. She said she learned information that raised concern about his ability to serve.
The firing followed the abrupt resignation of Chief Sean Whent five days earlier, during an ongoing investigation into claims by a young woman who said she had sex with officers, in part to avoid being arrested. Five Oakland police officers have been suspended, and two of them have resigned.
"We are dealing with disgusting allegations that upset me greatly," Schaaf said Wednesday. "As mayor, I need to have absolute confidence that the leader of this department can be 100% effective at leading cultural change based on current allegations that we take extremely seriously."
The probe began following the September 2015 suicide of an Oakland officer who left a note admitting to a relationship with the woman that began when he was married. The woman is the daughter of a police dispatcher, and the investigation into her contact with officers has now broadened to encompass multiple police agencies across the area. At least four law enforcement agencies have opened internal investigations into the woman's claims, which she has backed up with text messages.
The woman has made multiple references to the investigation on her Facebook page and posted pictures of herself giving interviews to television reporters. She did not respond to a request for comment but said that she had sex with at least three officers while she was 16, which would be statutory rape.