​How Did Chewbacca Mom Get Her Own Action Figure?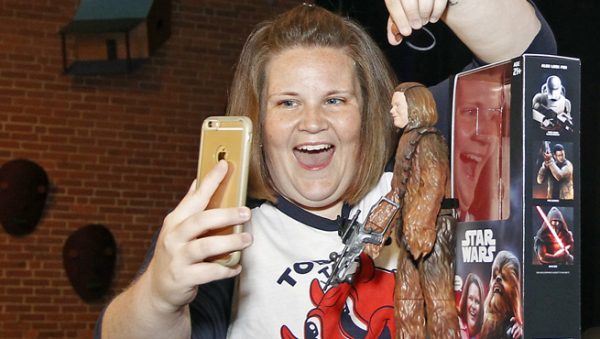 Candace Payne, the Texas mom who shot to sfame due to her Chewbacca mask video, now has her own Hasbro action figure.
Hasbro unveiled the Chewbacca action figure with Payne's face on it during a special ceremony at the toy company's Rhode Island headquarters over the weekend.
Brian Goldner unveiled Candace Payne's very own custom #ChewbaccaMom action figure @ Hasbro HQ! #HasbroStarWars pic.twitter.com/aTpQaCp1XW

— Hasbro (@HasbroNews) June 17, 2016
The figure comes with a removable Chewbacca mask and plays 13 catchphrases, including "I am such a happy Chewbacca."
Payne first streamed the video, which shows her wearing the Star Wars The Force Awakens Chewbacca Electronic Mask in her car, on Facebook Live last month. The video was viewed 40 million times in the first 24 hours.
Labelled, "It's the simple joys in life…" at the beginning of the clip Payne admits she would like to be able to say she purchased the mask for her son. "However, this is mine. At the end of the day, this is mine that I bought and I'm going to keep it for my own!"
The mother of two has been lapping up the perks of internet fame since her video went viral. She has received free Star Wars merchandise, as well as full scholarships for her and her family at Southeastern University in Florida. She also appeared on The Late Late Show with James Corden, and rode in a car with Corden and Force Awakens director J.J. Abrams.
Thanks so much, Hasbro. You literally rolled out the red carpet for me and my family," Payne wrote on Instagram of her visit to the company. "Thanks for making play so much fun!"