​California Vaccine Law Faces Opposition in Sponsored SB 277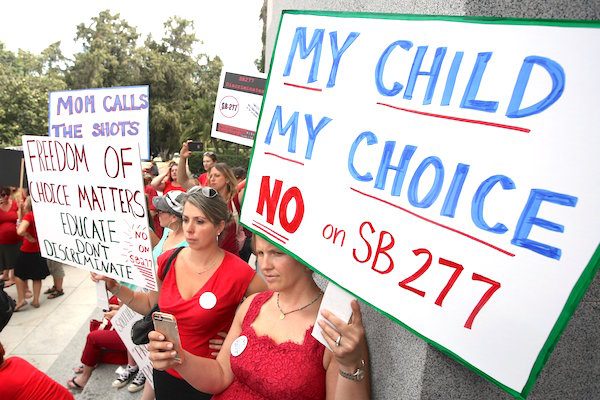 California Vaccine Law - Nina Jensen, a Morgan Hill mother of two, is moving her family this month to Oregon from California because of law. One big reason: The state still allows parents to opt out of vaccines for schoolchildren.
In San Jose, Kristen Kinne is checking out real estate in Idaho for the same reason. And an East Bay mom is considering going to an "underground network" of doctors to get a medical exemption for her 3 1/2-year-old son from a new law requiring nearly all California schoolchildren to be fully vaccinated — regardless of their parents' personal or religious beliefs.
Senate Bill 277, which last year sparked one of the most contentious debates in the state Capitol in years, takes effect Friday. But tens of thousands of Californians still remain vehemently opposed to a mandate they consider a violation of their parental rights.
The law, however, is being hailed by its proponents as a victory for public health. They say state records show it is already achieving measurable results in raising the number of vaccinated children.
"Vaccination rates are increasing as parents protect their children and communities," said Leah Russin, a Palo Alto mother and executive director of Vaccinate California, an advocacy group that sponsored SB 277. "The new law is working, improving quality of life and saving lives."
The Golden State joins Mississippi and West Virginia as the only states that permit just medical exemptions as valid reasons to sidestep vaccinations.
A measles outbreak — which began at Disneyland in December 2014 and eventually affected 159 people in the U.S. — triggered the legislation.
The bill's co-authors, Sen. Richard Pan, D-Sacramento, and Sen. Ben Allen, D-Santa Monica, said California's lenient vaccine rules were the problem.
Pan, a practicing pediatrician, already was alarmed by historically high numbers of whooping cough cases and related deaths since 2010. He looked to the marked rise of personal belief exemptions filed by California parents as a reason for the outbreaks.
In 2002, he and others noted, fewer than 0.77 percent of California kindergartners had vaccination exemptions. But by the 2013-2014 school year, the rate had more than tripled to 3.15 percent.
"Every year, you have a slightly larger number of kids entering schools without vaccines," said Pan. "And they just stay unvaccinated, building up the pool of unvaccinated people."
Eventually there's a tipping point, he said, and eventually "what you see happening is that someone in the community gets exposed to a disease, and it spreads throughout the community. And there are not enough vaccinated people to keep it contained."
The new legislation applies only to children entering a few checkpoints in any upcoming school year: day care, kindergarten or seventh grade.
That rule was inserted into the bill as a compromise by Pan and Allen, allowing many parents and schools time to ease into the new mandate. Even a new vaccine record signed by a child's doctor — showing that a parent has started the child on the required course of shots for 2016-17 — is enough to get a child registered for classes, according to the law.
Still, with the school year beginning as early as mid-August in the Bay Area, thousands of parents who have decided not to comply because they believe vaccines can harm their children are scrambing for ways to avoid the mandate. But their options are limited and, depending on their income, may lead to significant challenges.
Families can seek a medical exemption from their child's physician, based on general medical criteria already spelled out in state vaccine law, such as prior adverse reactions and immunodeficiency.
The East Bay mom — who would only give her name as Natasha out of fear her position on vaccines would alienate her bookkeeping customers — said she hopes her sister's diagnosis of Chronic Fatigue Syndrome is enough to convince a doctor that there's a family history of autoimmune disease that would exempt her child. But she also worries that the doctor might be exposed for exaggerating that link and the exemption would be canceled. In addition, she said, "it's very expensive."
The 29-year-old single mother noted that she would have to pay out of pocket since her own Kaiser pediatrician is unlikely to comply with her wishes. "My son," she admitted, "has no record of any ailment."
With no exemption, Natasha said, she might have to move back in with her parents in order to home-school her son when he reaches kindergarten age. The law exempts home-schooled children and those enrolled in an independent study program that does not include classroom-based instruction.
Failing those avenues, parents like Jensen, the Morgan Hill woman, are simply leaving the state.
"You're going to deny my child an education because she has not had a chickenpox vaccine?" Jensen asked. "Seriously?"
She and her husband owned a successful chiropractic business in Palo Alto for the last decade, but are going to set up shop in Bend, Oregon, this month with their two daughters, ages 9 and 12. Oregon allows personal belief exemptions as long as parents meet with their child's doctor or take an online course that explains the risks of forgoing vaccines.
"We started seeing the writing on the wall when there was talk about this law going into effect, and we waited to see if it would be overturned," said Jensen.
A referendum effort last fall, however, failed to attract enough signatures to qualify for the ballot, and Jensen does not seem hopeful that a lawsuit filed in April that seeks to prevent the law from taking effect will be successful. A second lawsuit was expected to be filed this week.
Even though California's new vaccine law would only target the younger daughter, who would face a round of shots when she heads into seventh grade, the 50-year-old Jensen said she and her husband have decided it's time to move away from her native state.
The soaring cost of living, higher taxes and a place she calls "not business friendly" also have influenced her decision, she said. But, she added, the vaccine law was "a big factor" behind their move.
"I'm basically starting all over again with the money from the sale of our house," said Jensen."But I welcome the new challenge … and more medical freedom."
Likewise for 30-year-old San Jose native Kinne, who will move to Meridian, Idaho, next year unless she can get medical exemptions for her children.
"I'm done with California," said a disgusted Kinne, mother of a 7-month-old son, and 5-year-old daughter who she says suffered a recurring fever and hives following a vaccine at nine months.
"I understand the argument for public health," she said, "but I don't think 160 cases of measles is a health hazard."
Pleasanton resident Vicki La Barge has no patience with parents like Kinne.
"You are making a choice as an adult, for your kids, and if you don't vaccinate your kids, then you homeschool them," she said. "That is your choice."
The grandmother of two — and another on the way — noted that many children in school today have medical conditions that result in lowered immunity levels, so they cannot be vaccinated.
"And the last thing that should happen to them is to catch a disease that is 100 preventable by a vaccine," said LaBarge.
Pan echoed LaBarge's comments, saying the law does not force vaccinations on any child.
"We are providing parents with a choice — and the reason for that choice is to ensure the health and safety of all students at school," he said.
He points to numbers from the state public health department showing that personal belief exemptions in kindergartners in 2015-16 had dropped to 2.38 percent, down from 2.54 percent from the year before.
The pediatrician believes that's a good indication that parents are paying attention to medical science as well as the new law, which he believes will restore the state's "community immunity" levels to about 94 percent. That's the ratio of people in a community who need to be vaccinated to prevent a vaccine-preventable disease outbreak.
His words, however, don't resonate with Ashley Pitcher, a 31-year-old mother who lives in Redwood City with her husband and 2-year-old son. The new law means she will most likely home-school her son when he turns school-age.
The young mother would have to drop one of her two part-time jobs as a result and, because her husband's work is based on the Peninsula, it would be tough to move out of state.
"It has definitely changed our path in life," Pitcher said.