​Charles Koch still refuses to endorse Trump, but will donate to GOP super PAC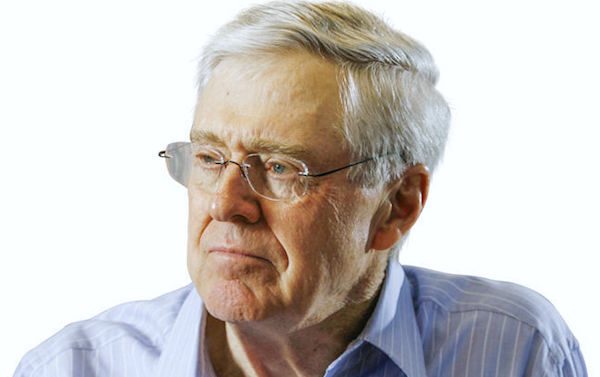 Charles Koch still refuses to endorse Donald Trump, but has contributed more than $3 million to a super PAC working to keep the Senate in the hands of the Republicans.
Koch's donation to Freedom Partners Action Fund helped the super PAC collect $8.1 million in May, according to a draft of the filing the group will submit to the Federal Election Commission in the coming days. The super PAC is a political arm of Freedom Partners Chamber of Commerce, a trade group at the center of Koch's large policy network.
Other large donors to Freedom Partners in May included Wisconsin roofing magnate Diane Hendricks and Mountaire Corporation, the poultry company owned by Arkansas businessman Ronald Cameron. Each donated $2 million.
Freedom Partners and Koch-affiliated groups already have spent more than $15 million advertising in Senate contests to protect vulnerable Republican incumbents in Ohio, Wisconsin and Pennsylvania and to help elect a Republican to an open Democratic seat in Nevada.
"Freedom Partners Action Fund is focused on supporting freedom-oriented candidates in the Senate," the group's spokesman James Davis said. "The current majority is preferable on a range of issues, particularly their support to protect free speech."
The Koch groups, which have identified "protecting free speech" as a top priority, have pushed a measure in Congress that bars the IRS from collecting information on donors to non-profit groups, arguing the government could use that information to harass financial backers of conservative causes. Most groups in the Koch network operate as non-profits.
On Tuesday, the House passed the measure. South Carolina Sen. Tim Scott, a Republican, has introduced a companion bill in the Senate.
So far, the deep-pocketed network has not engaged in the presidential race. Koch recently criticized the Republican's presumptive nominee Donald Trump but said his aides had agreed to meet with Trump campaign officials.
Mark Holden, a top Koch executive, met with Trump's team this week in New York. He declined to comment about what transpired.
Some of Koch's allies are supporting Trump. Hendricks, for instance, is one of the vice chairs of a committee raising funds for Trump and the Republican Party.